A really nice review just came in for Piano on 24th by One World Music! I'm delighted that Steve enjoyed it so much, and I'm impressed with how spot-on he was with his interpretation of individual recordings.
You can read the review below, or visit OWM's inspiration album review page and click on my album cover.
(While you're at it, have a listen to song samples below or purchase Piano on 24th!)
Piano on 24th – by Jay Frost
Reviewed by Steve Sheppard
I had been looking forward to a relaxing afternoon in the sun, those golden beams caressed and bathed my studio with a very pleasant warming light and the tones of a new release by Jay Frost called Piano on 24th was my new sound track for the moment.
Sounds idyllic doesn't it and I'm always grateful for my life, but when you get a soothing album like this to review, it just makes it even better, the energetic tones of the opening piece called Before you Open Your Eyes fills the room with a powerful, but melodic moment of solo piano bliss.
While Frost excels on Come to This Fountain, a piece that really stands out for its strength and emotive quality, with a sweet harmonious melody, he positively performs a total peach of a performance on Que La Lumiere Siot, which I think means let there be light. Frost has such a touch here that he can create moment to reflect and move onwards in this crafted track.
The gentle refrains from the piece, With the Angels Sing, has such a deft sense of respect built into its performance, the style here from Frost is very addictive to listen to as well, he seems to almost paint a picture of each musical moment with his keys, as he goes.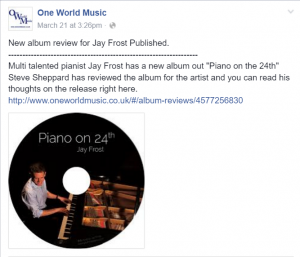 The sun has started its evening fall; the warm glow radiates around us all as we listen to Harpstrings, this is actually a relevant composition for my moment, this could so easily be the soundtrack for this beautiful afternoon, it flows smoothly and soothes with precision and was one of my personal favourites from the album.
Now something truly magical and this is utterly amazing, dear reader you will come across at this point of your musical journey, to a track called River Blossoms, the performance on piano here by Frost is outstanding and with those delightful natural sounds, he has created probably the most graphically visual composition off the album, I personally found this piece quite emotive and moving and it was my number one track from the album.
Selkie Crossroads, now interesting a Selkie is a mythical creature in Scotland, whether that has anything to do with the song or not, who knows, but it would fit, however Frost does create a forward moving narrative in this song, that once again provides the mind with enough imagery to allow it to manifest its own themes. Something about this track also reminded me in parts of Doug Hammer, another great creator of fine solo pieces.
We move swiftly to a composition called, Not A Secret, where we find Frost in a reflective mood, but one that feels like he is relaying a narrative of a tale to someone through his performance, one that at times was almost excitable, with a passionate lilt.
The day has been long and hard, but rewarding, perhaps time to take off and wander down the lanes and roads of a city and watch the Street Magic, personally I am impressed with the arrangements on this album, many of them over 6 minutes long like this one, and all of them feel like there is a story desperate to be told. Street Magic has poise, power and intensity and builds with a sense of intent that is extremely impressive.
Now for the longest piece off the album, the opus that will be known to us as 'Til it's Gone, this is one of those tracks you will listen to and think that the melody and theme is something you have heard before, it isn't, but the style is, this is a track that has all the elements of being a classic song and I could imagine lyrics being created for it and that style, well in some ways it reminded me of the great Sir Elton John and that oh so famous album Goodbye Yellow Brick Road, a great track, brilliant played and thoroughly entertaining.
I once heard a song sung by Tom Jones, it was called Andalucía, the tale tells of a hard life in small village in southern Spain. Here Frost plays it hard, but proud. There is all the heat and passion you get from a life in the Mediterranean, I should know I live there; this is one power play of a track that is extremely well performed and played.
So we are at that last but one curve in the road known as the penultimate track off the album and it is the clever El Gato, a little Jazz element is mixed with an almost black and white silent movie style, Frost has everything here, intrigue, dance, and great energy.
The last stop on our journey with Jay Frost is a piece called On A March, this rag styled track appeared on one of our chart shows recently and really engaged the audience. I also think that this entire album will be one that will engage the listeners and dear reader you're going to have a lot of fun if you do the right thing and sensibly purchase this album.
Jay Frost is without doubt an accomplished pianist, but here on Piano on 24th, he has proudly put his heart on his sleeve and gone for it, and as the sun goes down on my day, I can truly say that I completely enjoyed my musical journey, this is an album that has truly brilliant narrative stunning breath-taking performances, so why not let the hands of Frost be your story teller too?